Federation of Families for Children's Mental Health
National Federation of Families for Children's Mental Health 
A national family-run organization linking more than 120 chapters and state organizations focused on the issues of children and youth with emotional, behavioral, or mental health needs and their families.  The National Federation works to develop and implement policies, legislation, funding mechanisms, and service systems that utilize the strengths of families. Its emphasis on advocacy offers families a voice in the formation of national policy, services and supports for children with mental health needs and their families.  www.ffcmh.org
Georgia Parent Support Network, Inc. is both the Statewide Chapter and the Atlanta/Fulton County Chapter of the National Federation of Families for Children's Mental Health.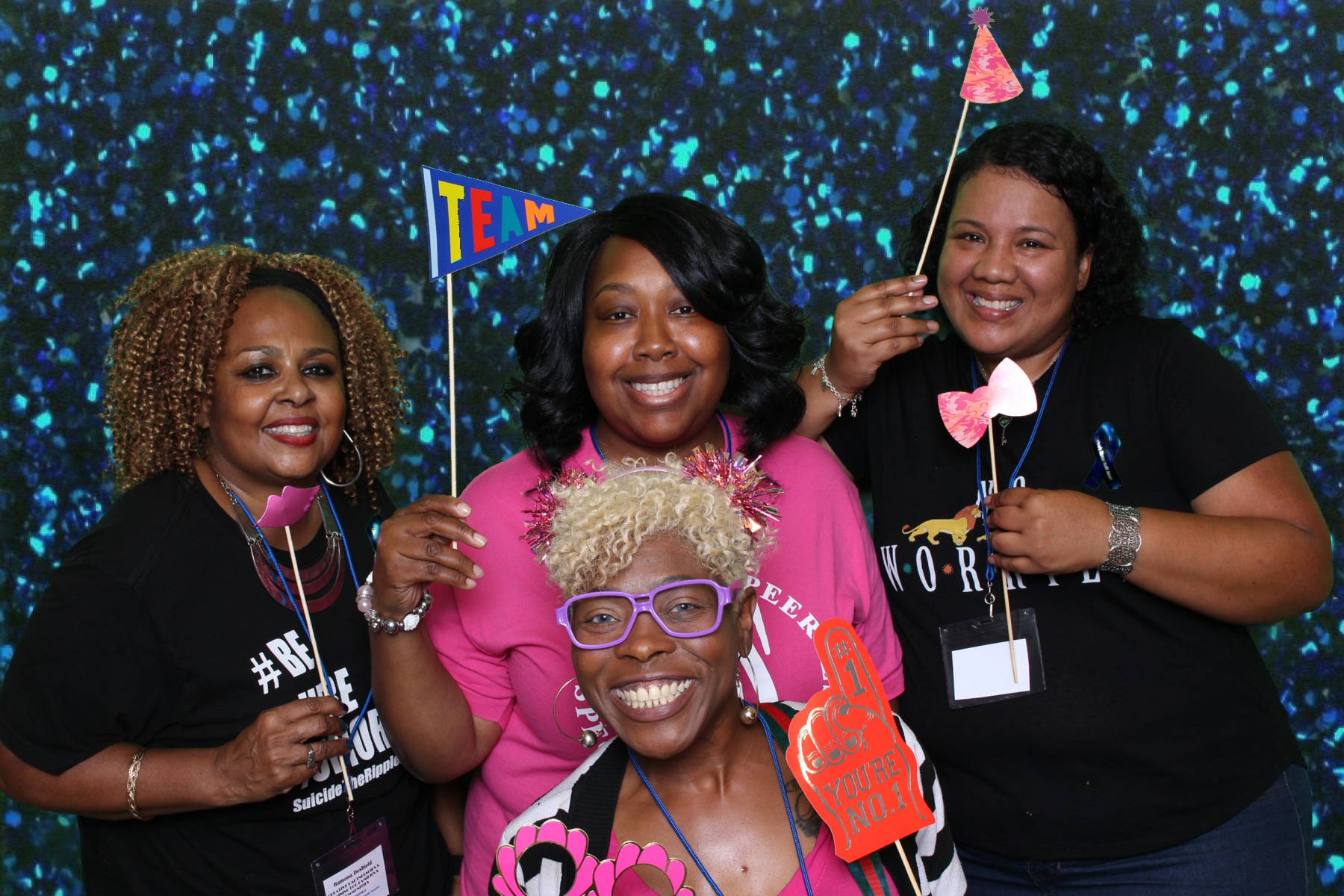 Active Georgia Federation Chapters
These local chapters are our eyes and ears to the issues facing children and youth with emotional, behavioral, and mental health challenges and their families in Georgia. Through the chapters, we are able to utilize calls for action to elicit change in systems at the national level.  If your child needs help please contact the chapter closest to you in Georgia.  As always, feel free to call us at Georgia Parent Support Network for assistance.
Kidsz Paradise
Levurne Batts, III, CEO
Address: 10 Hamilton Boulevard, NW, Suite E
Cartersville, GA 30120
Phone: 678.719.8140
Email: lbatts@kidszparadise.com
Puzzle Pieces of Love
Brianna Jackson, Director
Address: 2558 Huntington Drive
Macon, GA 31204
Phone: 478.973.1630
Email: breejack2013bj@gmail.com
Website: www.facebook.com/PuzzlePiecesofLove
Kids Like Moses Advocacy of GA
Yaasmeen Rhett-Nyjah
Address: 6691 Church Street, Unit 691262
Riverdale, GA 30296
Phone: 470.296.0177, Toll free: 800.858.8676
Sassy Moms Mentoring Other Mothers
Kandy Parker, Director
Jonesboro, GA
Phone: 762.760.7468
Email: sassymomsinc@gmail.com
In My Children's Name
Caketha Goreed, Founder
Address: 2089 Lee Drive
Austell, GA 30168
Phone: 770.771.3431
Email: imcnff@gmail.com
Haven of Hope
Hope Edwards
Address: 513 Seminole Drive
Moultrie, GA 31708
Phone: 229.454.9014
Email: hope.edwards@vphealth.org
Integrated Concepts for Families, Inc.
Dr. Kisha Whitfield, CEO
Address: 619 Main Street
Palmetto, GA 30268
Phone: 888.316.0902 or 770.463.0202
Email: drwhitfield@ic4f.com
Website: https://integratedconceptsforfamilies.org
Adults Pushing Forward Inc.
Octavia Gore, CEO
Address: 2020 Avalon Parkway, Suite 355
McDonough, GA 30253
Phone: 470.314.8038
Email: adultspushingforward501@gmail.com
Website: http://adultspushingforwardinc.org/
Creative Partnerships & Training for Families and Communities
Ramona Deshield, Executive Director
Contact: Heather Dorner
Address: 132 Memorial Court
Lawrenceville, GA 30046
Phone: 404.860.5909
Email: cpt4families@yahoo.com
homegirlspace@gmail.com
Dekalb Families In Action  & 
DFIA Youth M.O.V.E
Tammie Harrison, BS, CPS-P, Executive Director
Address: 5300 Memorial Drive, Suite 215-G
Stone Mountain, GA 30083
Phone: 404.604.7229
Email: dfia.ffcmh@gmail.com
Website: www.dfiaffcmh.org
Families Advocating for Voice of Resilience (F.A.V.O.R.) &
F.A.V.O.R. Youth M.O.V.E
Carmen Coates, Director
Address: 798 Rays Rd., Suite 94
Stone Mountain, GA 30083
Cell: 404.587.8286, Office: 404.499.0078
Email: favorfamilies1@gmail.com
Website: www.favorfamilies.com
Father's Tree of Hope
Ivan Fields, Director
5221 Winding Stream Court
Stone Mountain, GA 30088
Phone: 202.427.2264
Email: teamplatinum2b@gmail.com
Facebook: www.facebook.com/Fatherstreeofhope
Foster and Adoptive Parents Connection of GA
Pamela Jones, Director
Address: 7428 Woodruff Way
Stone Mountain, GA 30087
Phone: 770.873.0460
Email: gaparentsconnect@gmail.com
Website: gaparentconnect.vpweb.com
HYPED4U Mentoring
Hyped4U Youth M.O.V.E
Tywanna Bailey, CEO and Founder
Address: 4069 Spring Meadow Road
Tucker, GA 30084
Phone: 470.429.1217
Email: hyped4umentoring@gmail.com
Reestablishing the Village
Katherine Dieng, Founder-CEO
Address: 600 Northern Avenue, #2207
Clarkston, GA 30021
Phone: 770.990.7098
Email: katherinedieng@yahoo.com
Website: reestablishingthevillage.weebly.com
The Younger Years and Beyond
Teresa Johnson, Executive Director
Address: 708 Church Street
Decatur, GA 30030
Phone: 678.861.6926
Email: ZariasSong@gmail.com
Website: ateducational.wixsite.com/zariassong
Family Advocates of GA, Inc
Melissa Alford, CEO
Address: P.O. Box 2437
Douglasville, GA 30133
Phone: (404) 437-5973
E-mail: faogainc@gmail.com
Website: www.faogainc.com
State Organization
Georgia Parent Support Network, Inc. & State Youth M.O.V.E.
Dr. Sue L Smith, CEO
1381 Metropolitan Pkwy SW
Atlanta, GA 30310
Phone: 404.758.4500, Toll Free: 1.844.278.6945
Fax: 404.758.6833
sue.smith@gpsn.org
www.gpsn.org
Each One Teach One Together, Inc.
Debra Suzette Brown, CEO
Address: P.O. Box 44522
Atlanta, GA 30036
Phone: 470.352.5986
Email: eachoneteachonetogether@gmail.com
Website:https://www.eachoneteachonetogether.org/
Georgia Parent Support Network, Inc.
Sue Smith, CEO
Address: 1381 Metropolitan Pkwy
Atlanta, GA 30310
Phone: 404.758.4500, Toll Free: 844.278.6945
Email: sue.smith@gpsn.org
Website: www.gpsn.org
Helping Hands of Hope
Barbia Dunbar Arnold, Executive Director
Address: 2616 Piney Wood Terrace
East Point, GA 30344
Phone: 678.760.2354
Email: barbiashandsofhope@yahoo.com
Integrated Concepts for Families, Inc.
Dr. Kisha Whitfield, CEO
Address: 619 Main Street
Palmetto, GA 30268
Phone: 888.316.0902 or 770.463.0202
Email: drwhitfield@ic4f.com
Website: https://integratedconceptsforfamilies.org
Reggie's Place Foundation
Beverly McDaniel, Founder and CEO
Address: 259 Richardson St., #904
Atlanta, GA 30312
Phone: 678.851.7678
Email: reggiesplacefoundation501c3@gmail.com
Mini Minds Matter
Monique Jackson, Interim Executive Director
Address: P.O. Box 683
Dacula, GA 30019
Phone: 678.523.1627
Email: moleiaenterprises@gmail.com
NW Georgia Federation of Families Policy Council / PINS UP
Hope Darden-Swift, CPS-P, BS, Director
Address: 290 Hinton Way
Covington, GA 30016
Phone: 706.766.1458
Email: hfsams@yahoo.com
Empowering Families
Cathyann Gittens, CEO
5916 East Lake Pkwy, Suite 278
McDonough, GA 30253
Phone: 404.667.9664, Fax: 678.583.5985
Email: empoweringfamilies@yahoo.com
Young Dreamers
Samantha Samuels, Director
Address: 255 Corporate Center Drive, Suite F, Lower Level
Stockbridge, GA 30281
Phone: 404.661.0400
Email: Authenticmeconsultingllc@gmail.com
Families Future Empowerment Support Coalition
Latisha Spikes, Director
Columbus, GA
Phone: (706) 304-8393
E-mail: familiesempowerment1@outlook.com
Never Too Late-The Keeping Kayleigh Foundation
Christina Henry, Director
Address: 8160 Wood Street SE
Covington, GA 30014
Phone: 404.430.2792
Email: christina@nevertoolatega.com
Website: https://chenry042680.wixsite.com/nevertoolate
NW Georgia Federation of Families Policy Council / PINS UP
Hope Darden-Swift, CPS-P, BS, Director
Address: 290 Hinton Way
Covington, GA 30016
Phone: 706.766.1458
Email: hfsams@yahoo.com
Foster and Adoptive Parents Connection of GA
Pamela Jones, Director
Address: 7428 Woodruff Way
Stone Mountain, GA 30087
Phone: 770.873.0460
Email: gaparentsconnect@gmail.com
Website: gaparentconnect.vpweb.com
My Girls, Inc.
Dunyell Dawson, Executive Director
Address: 2211 Rockdale Drive NW
Conyers, GA 30012
Phone: 470.207.3374
Email: dunyelldawson@gmail.com
Facebook: www.facebook.com/My-Girls-Inc